A Reflective Read
I recently finished reading "Walking Home" by Sonia Choquette.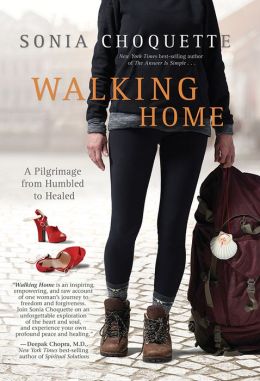 It the story of her 34 day walk of the ancient 800km pilgrimage path across Spain; the Camino de Santiago. I love traveling; I love Spain; I love walking; I love the idea of the Camino and I really enjoyed one of Sonia Choquette's books and so for me this was a definite read!
I thoroughly enjoyed the book and loved how she wrote it in a diary format. Being a spiritual teacher and intuitive guide, her book is not just about her grueling journey but also a deeply inward reflection of where she was at in her life and how she got there. She reflects on a number of her personal relationships and her behaviour and role in them. While reading this, it inspired me to look at some of my relationships, especially one I find particularly challenging and whose company I was in at the time. It was a wonderful exercise for me and helped me to reflect on where I was at in this particular relationship and why my buttons were being pushed and that they could only really be buttons because they were my issues. I went on daily walks along the beach and felt like I was doing a tiny little Camino walk myself everyday. It was wonderful.
I also really liked the option she chose of having 2 back packs and only carrying the smaller one with the other one being transported for her to her accommodation each night. Also her accommodation was slightly upmarket from the pilgrims' albergues that most people traditionally stay in. Initially my thoughts were along the lines of 'is that not cheating or opting for the easy route?' However, when I really sat with it, I realised that we don't need to be martyrs and that just doing the Camino itself requires huge guts and determination and everyone must find their own journey and work with what suits them best. I had to laugh when she spoke about bumping into a busload of tourists who walked little stretches of the Camino and then hopped onto the bus that whisked them off to the next little stretch. Now to me that feels like cheating, but to some of those on the bus, it is probably what they can realistically manage and if that works for them, who am I to judge.
The Camino is on my bucket list and I am hoping to do it when my girls are a bit older and I can get away for such a long stretch of time.
If the Camino is something that interests you, I would definitely recommend reading it and if you enjoy Sonia Choquette's work, then it is lovely to get to know her a bit better.